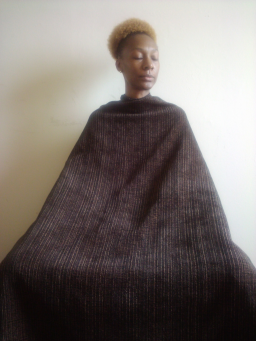 Last month, I had the pleasure of making my first visit to Thema Azize Serwa, owner of The Womb Sauna, located in Maryland.  The Womb Sauna is a traveling herbal sauna specifically made to help heal your womb.  The sauna is derived from an ancient practice that involves positive affirmations, healing herbs, and womb telling.  I strongly believe that combining healing herbs and good, healing food into your natural health regimen will heal you from all that ails you — including your fibroids.  I invited Thema to write today's post so that you can learn more about her work, her products, and perhaps make an appointment for your sacred womb sauna.
Walk into any room full of people and simply ask "Who knows someone with fibroids?" Almost every hand goes up! More and more women are seeking natural ways of healing themselves. To change a nation, simply restore one woman to wholeness!
Thema Azize Serwa is ringing an alarm about herbal steam medicine!  Most women in the West have forgotten how powerful herbal steam medicine is; it is ancient medicine. In Africa and the Caribbean, elders would dig holes in the dirt and fill them with barks and healing herbs and have young women squat over the burning herbs for womb health. Through a combination of the mobile Womb Sauna service, free webinars, and herbal detoxification products, women are raving about the mental, physical, and spiritual benefits of the Womb Sauna.
The Womb Sauna is much more than a wonderful full body sweat. Women sit on a chair that is open at
the bottom. Beneath the chair, custom herbal blends infused with gemstone essences are heated and
create a concentrated herbal steam that "smokes" the womb. Women release mucous, toxins, and reap
over 25 health benefits from one 60 minute Womb Sauna session.
In addition to sweating, you are coached on how to breathe and release emotional memories that are
often the root cause of your womb dis-ease. Many have called the Womb Sauna a movement on behalf
of all women in a womb crisis. Women have been reported crying, singing, praying, and feeling physical
relief within their first Womb Sauna session. So often we forget that the womb records everything.
Thema continues to take the Womb Sauna across the United States to empower women to know that
they are powerful enough to heal themselves and ancient herbal steam medicine is one way to do it!
To learn more visit www.thewombsauna.com or contact Thema Azize Serwa at 301-740-4465!