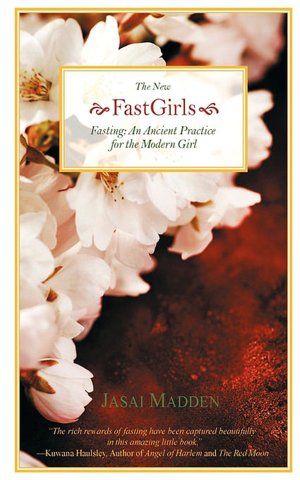 Do you have an irrational fear?  My irrational fear is not eating.  It's not like I grew up desperately poor or anything.  But I snack all day long and quite frankly don't know how to stop.  I think I do it to make the time go by faster.  Or perhaps I am bored.  Sometimes even lonely.  I have never been much of a junk food eater, however I do tend to eat heavy, calorie-laden foods, even when I am not hungry.  And my body has paid the price — in weight.
For the last year, the word, FASTING,  has been a constant word in my head.  I have this little voice that speaks to me when I put my hand on my womb and get quiet.  Some may call it spirit, God, intuition.  I call it the voice in my head.  Every time I run out of answers, I ask myself, "What do I do now?"  The voice says, "FAST."  But, you see, fasting, means not eating.  And for some strange reason I have difficulty wrapping my brain around the concept of not eating.  At one point I thought eating raw foods for a month was the ultimate eating challenge.  It took me at least 3 or 4 years of seriously working on myself to get to that point.  However with raw foods, I could eat what I wanted, when I wanted, as much as I wanted — as long as it was raw.  But fasting…  That means no eating.
If I fast, what will I do to pass the time?  I love to surprise my fiance with my new culinary creations (and he's an honest critic…).  What will I do when I'm hungry?  What will I do when it's just me???
In January, just as I was considering (read: fighting) the whole concept of fasting and whether or not I could survive it, a video featuring Jasai Madden, author of The New Fast Girls: An Ancient Practice for the Modern Girl, popped into my email box.  Life design expert, Akilah S. Richards, did an interview with Jasai to discuss the book.  My fiance happened to be there when I played the video.  His immediate response:  Halona, you need that book.  And he was right.
THE GIVEAWAY!
I finally decided to stop running and obey the voice.  And I bought Jasai's book so that I can get some fasting inspiration and guidance.  She also has a group on Facebook that supports women who have decided to take the plunge.  I have an e-copy I would like to share with one lucky reader.  All I ask is that you fill out this very short survey.  I want to get your thoughts on what you would like to see in the coming months on this blog.  The giveaway ends March 13th at 5pm EST.  Good luck!
Halona Black is a Women's Health Coach, Writer, and Personal Chef. She is now registering women for her 6-month womb wellness program for women with fibroids and other reproductive health challenges.  To learn more, click here.